Shopify app
The Notia ERP Connect application ensures the automatic transfer of orders from your store to the Notia Business Server. Thanks to this app you will ensure the integration of your store into the process of processing and fulfilling sales orders in a smooth way.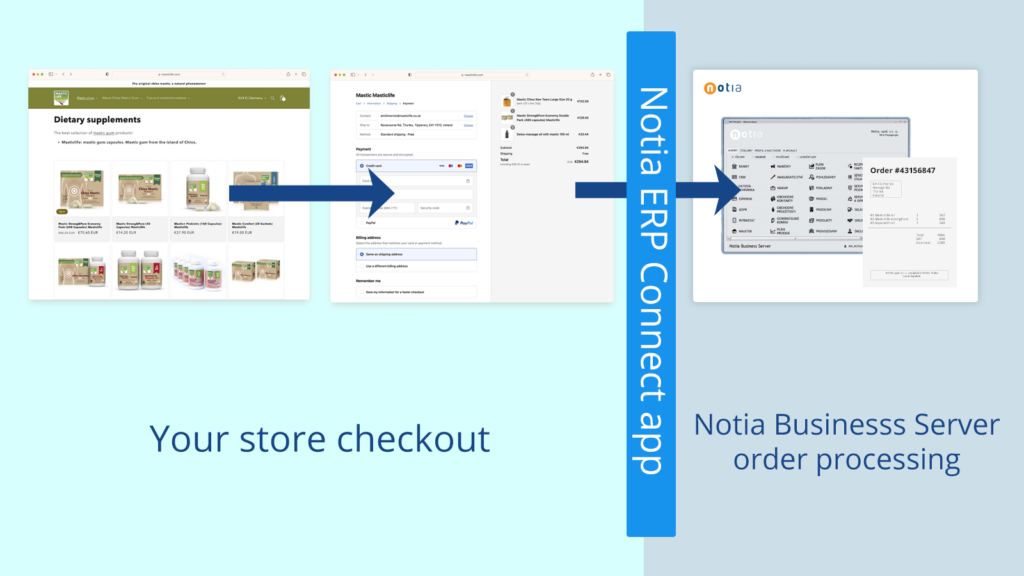 How to use
Find Notia ERP Connect app in the Shopify app store and install it in your store.
In Notia Business Server you need to set the shipping and payment methods for your Shopify store. You also need to have document prefixes set up for orders and order methods. This is all part of the standard processing, so you only need to verify that all data is filled in.
Get an NBS API key to connect your store to Notia Business Server. Just write to us.
Open Notia ERP Connect, fill in the API key and connect your store with Notia Business Server.
Set all values according to the needs of the ordering process. Thanks to the link, simply select the correct Notia Business Server values.
Now you are ready. Make a test order, which should immediately appear in Sales Notia Business Server.
Pricing
Notia ERP Connect is free to install and use. Other licenses may be required depending on the terms of use of your ERP system.
Troubleshooting
In case of problems, contact us directly or at the Notia helpdesk.
Privacy policy
The terms and scope of data and personal data protection can be found in Privacy policy